Meet our Administrative Assistant, Cora Lewis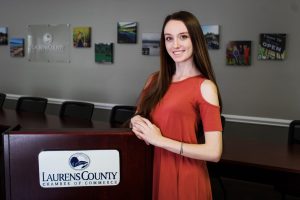 Cora Lewis joins us as our new Administrative Assistant. Cora, graduated from Clinton High School in May of 2022, a year ahead of schedule, she was ranked at the top of her class with High Academic Honors and a 4.9 GPA. Her goal is to learn more about Laurens County and further her education in Accounting at Piedmont Technical College this Spring. As a part time assistant at the Chamber, she will  focus on membership support, event planning, marketing, communications, and general office support.  Cora will be working with the Chamber staff to improve the capacity and fulfil the needs of Laurens County.
The entire Chamber team works to promote, strengthen, and develop Laurens County by connecting organizations, supporting businesses, and building community. The newest team members look forward to supporting this mission and working with and for Laurens County.