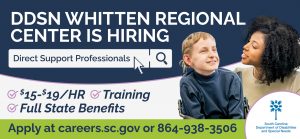 Location
Laurens County, SC
Job Type
FTE - Full-Time
Agency
DDSN-Whitten Regional Center
Salary
$35,360.00 - $65,429.00 Annually
Job Responsibilities
Notice to Applicant: Pursuant to the Center for Medicare and Medicaid Services (CMS) Omnibus COVID-19 Health Care Staff Vaccination Interim Final Rule (IFR), the South Carolina Department of Disabilities and Special Needs (SCDDSN) has established COVID-19 vaccination requirements and exemptions for staff who provide any care, treatment, or other services in Intermediate Care Facilities for Individuals with Intellectual Disabilities (ICFs/IID). This position is subject to this requirement. You may contact Human Resources for further information or review SCDDSN Directive 413-11-DD at https://ddsn.sc.gov/providers/ddsn-directives-standards-and-manuals/current-standards.
About Our Agency
The South Carolina Department of Disabilities and Special Needs (DDSN) is the state agency that plans, develops, coordinates, and funds services for South Carolinians with the severe, lifelong disabilities of:
intellectual disability and related disabilities
autism spectrum disorder
traumatic brain injury
spinal cord injury and similar disability
About Whitten Regional Center
Whitten Regional Center is a residential facility of the South Carolina Department of Disabilities and Special Needs located in Clinton, SC serving residents with intellectual and developmental disabilities.
Serve as Qualified Intellectual Disability Professional (QIDP) of a DDSN regional residential area.
1. Ensures service design and delivery providing each consumer with an appropriate active treatment program. QIDP is the leader of the interdisciplinary team, consisting of professional and paraprofessional staff responsible for developing individual program plans for individuals. Specific duties include: ensuring the completion of a current and accurate comprehensive functional assessment, chairing the ISP meeting, authoring the ISP, ensuring the plan remains updated and ensures coordination with professional staff so each consumer receives the professional services needed to implement the active treatment program.
2. Observe consumers, review data and progress, and revise programs based on consumer needs and performance. Ensures consistency among external and internal programs and disciplines to include ensuring that any discrepancies or conflicts between programmatic, medical, dietary, and vocation aspects of consumer's assessment and program are resolved.
3. Ensures effective communication with consumer families. Available when needed for situations requiring attention/input of QIDP unless other arrangements for covering caseload are made.
4. Ensures follow-up recommendations for services, equipment or programs and ensures adequate environmental supports and assistive devices are present to promote independence.
5. Supervise the direct support staff as needed and appropriate for the purpose of ensuring each consumer's active treatment program is developed, implemented and monitored, continuously and aggressively as required by regulation. Provide in-service training, observations, monitor ship and evaluation of employee performance as needed and appropriate to ensure direct support staff are able to do the following: 1) Perform duties effectively, efficiently, and competently. 2) Demonstrate the skills and techniques necessary to administer interventions to manage the inappropriate behavior of consumers. 3) Demonstrate the skills and techniques necessary to implement the individual program plans for each consumer for who they are responsible.
6. This is an Essential Employee position. Must be physically able to work with consumers, some of whom may be aggressive, medically fragile, etc. Be able to work in an environment that is subject to frequent distractions and interruptions. Responds to emergency situations as needed. As an essential employee you will be required to work overtime / on call  to ensure consumer safety and supervision.
Minimum and Additional Requirements
At the time application, qualified applicants will have at least two (2) years of  related experience providing professional or direct services (either paid or volunteer)
including at least one (1) year of experience working directly with persons with intellectual disabilities or other developmental disability. The experience working directly  with persons with intellectual or other developmental disabilities can be obtained prior to or after obtaining one of the following qualifying required degrees or credentials: Bachelor Degree in a human services field (including but not limited to Sociology, Special Education,  Rehabilitation Counseling and Psychology); Registered Nurse licensure; or Doctorate of Medicine Osteopathy."
Applicants indicating college credit or degree(s) on the application will be required to bring a copy of their college transcript to the interview.  Please note that an official, certified copy of the transcript will be required within a specific timeframe for candidates selected for hire.