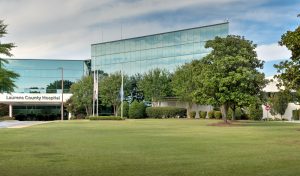 INSPIRED TO HELP YOU BE YOUR HEALTHIEST YOU
At Prisma Health Laurens County Hospital, we're dedicated to supporting your healthcare needs. We're making healthcare exceptional for everyone across Laurens County and surrounding communities. With local access to women's health services, cardiac care and surgical specialists, we're committed to helping you be your healthiest you.
Conveniently located on Highway 76 between Laurens and Clinton, Laurens County Hospital makes it easy to receive the care you need close to home. As part of the largest healthcare organization in the state, we deliver high-quality care with small-town hospitality. Laurens County Hospital has provided the local community with exceptional care and hometown professionalism and courtesy since 1989. Our 76-bed hospital offers care to individuals who need an inpatient stay, as well as outpatient services such as radiology and laboratory tests. In addition, our emergency department provides high-quality acute care around the clock in a setting that maximizes patient comfort.
PROVIDING NATIONALLY RECOGNIZED CARE IN OUR COMMUNITY
• CMS Four-star Rating
• Premier HIIN Award for Excellence in Patient Safety
• Multiple Zero Harm Awards for preventing surgical site infections
• HeartLife Cardiac Rehabilitation Program Gold Level Recognition by the American Heart Association and American Medical Association
• Baby-Friendly designated by the World Health Organization
• Designated a Blue Distinction Center for Maternity Care by BlueCross BlueShield of South Carolina
• Named a Best Maternity Care hospital nationally by Newsweek/The Leapfrog Group
• Honored by the American Heart Association for high-quality stroke care with a Bronze Achievement/Quality Award
THE CARE YOU NEED RIGHT HERE AT HOME
At Prisma Health, our goal is to offer comprehensive primary care for you and your family. Serving as your medical home will give us the best overall view of your health and family medical history, which will enable us to provide you with the best care. Regular visits with your primary care professional help you stay on top of routine screenings and with early detection of more serious health conditions. If you don't have a medical home, contact one of our primary care offices to schedule an appointment.
• Advanced Family Medicine: 864-833-0973 • 210 S Broad St., Clinton, SC 29325
• Carolina Women's Center: 864-938-0087 • 102 Medical Park Ct., Clinton, SC 29325
• Laurens Family Medicine - Gray Court: 864-867-4888 • 9100 Hwy. 14, Gray Court, SC 29645
• Laurens Family Medicine - Laurens: 864-984-0571 • 106 Parkview Dr., Laurens, SC 29360
• Prisma Health Internal Medicine - Laurens: 864-833-4545 • 22725 Hwy. 76E., Ste. A, Clinton, SC 29325
In addition to meeting your routine healthcare needs, we offer multiple specialty practices and programs to help you live your healthiest life. These include cancer care, cardiac rehabilitation, general cardiology, and heart rhythm management, orthopedics and sports medicine, and endocrinology.
Our Upstate Wound Healing and Hyperbaric Medicine Center is an award-winning program that brings the most advanced wound care therapies to Laurens and surrounding counties, allowing residents to
get needed care close to home. It provides specialized treatment for chronic or non-healing wounds. Often, wounds may be the result
of complications with diabetes. Managing diabetes starts with education. Whether you're newly diagnosed with diabetes or have lived with diabetes for years, the Diabetes Self-Management Program at Laurens County Hospital can give you help and ongoing support.
ADVANCING BREAST HEALTH
A major advance for women with dense breast tissue, 3D mammography is offered on our campus. 3D mammography has a better cancer detection rate than routine digital mammography and enhances the patient's experience by decreasing callbacks for more tests. If you're a female age 40 or older, schedule your 3D mammography today by calling 864-522-9729. A physician referral is not required.
GROWING YOUR FAMILY IN LAURENS COUNTY
You deserve high-quality maternity care. Carolina Women's Center, part of Prisma Health, has OB/GYN experts who know that pregnancy and birth are key events in the life of any family. That's why physicians and staff consider it a privilege to be part of your birthing experience. When you're ready to deliver your bundle of joy, you'll be in excellent hands. Laurens County Hospital has received multiple awards and recognitions for safety and patient experience at the Women's Life Center. Our facility is designated a Baby-Friendly Hospital, which means we promote breastfeeding through rooming-in, encouragement of skin-to-skin contact, and breastfeeding support from our dedicated Lactation Specialist.
For your peace of mind, we provide a state-of-the-art telehealth program for newborns called Delivery Buddy. In the unlikely event that a baby has complications during or just after delivery, a neonatologist or neonatal nurse practitioner from Prisma Health Greenville Memorial Hospital partners with local health professionals via telehealth as if at the bedside. Medical teams on each side of the screen can hear and
see the newborn and interact with the family.
For more information about healthcare available in your backyard, visit PrismaHealth.org/Laurens.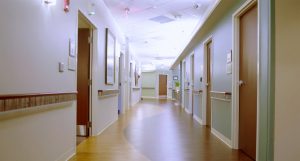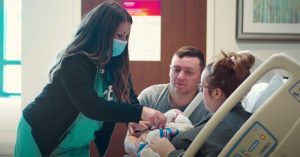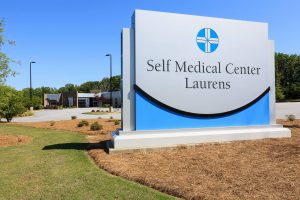 Self Regional Healthcare (SRH) is a major referral and medical center providing advanced healthcare services to a population of more than a quarter of a million people in the Lakelands region of upstate South Carolina.
Their family physicians and specialists, nurses, and specially trained staff provide care at locations throughout the area, so there is always quality healthcare close by. It's healthcare the way it should be – a complete network of care for you and your family.
COMMUNITY INVOLVEMENT
Self Regional Healthcare is an integral part of the Laurens community and takes great pride in sponsoring numerous organizations and events that improve our quality of life.
On-site clinic at Presbyterian College every day for students and athletes
Annual PC athletics sponsorship
Rhythm on the Rails sponsorship
Laurens County Chamber sponsorships
Physical Therapy partnership with Laurens YMCA
SELF MEDICAL CENTER LAURENS
Self Medical Center Laurens (SMCL) conveniently located at 22580 Highway 76, is SRH's flagship medical facility in Laurens County. This 28,000-square-foot, state-of-the-art facility houses three medical practices: Family Healthcare Clinton, Internal Medicine Laurens, and Express Medical Care Laurens (for extended hours, urgent care service).
The medical center brings many much-needed services to Laurens County. From cold to cardiac care, the board-certified physicians and clinical support staff at SMCL work to provide Clinton, Laurens, and surrounding communities with comprehensive healthcare. And, as affiliates of Self Regional Healthcare – just down the road in Greenwood – they have access to resources, diagnostics, and technology of a nationally recognized regional referral center serving the entire Lakelands of South Carolina. The Laurens facility boasts spacious and modern waiting areas, exam, treatment and procedure rooms, onsite labs and X-rays, and even a community room for meetings and public events.
Additionally, Laurens County patients benefit from a rotation of skilled specialists. At SMCL, Spine and Orthopedic and Urology physicians regularly see patients, and just down the road at the Laurens Specialty Medical Office (23013 Hwy 76 East) Cardiology, Vascular and General Surgery specialists from Self Regional are on site every week to meet the many healthcare needs of you and your loved ones. For employers, Self Regional staffs SMCL with Occupational Health providers who offer injury management, wellness programs, drug testing, and many other services to improve the health of your team and your business.
The facility also offers physical therapy, pulmonology services, psychiatric services, as well as regular visits from the organization's Mobile Mammography Unit.