Get involved...get engaged...
The Chamber's programming has been designed with you in mind.  We are a membership-driven organization and we need you as much as you need us!  We are a great TEAM!
Sponsoring a Chamber program or event puts your company in front of your peers and potential customers.  Check out these opportunities and let us help connect you to the right audience.
We welcome questions & partnerships!
Interested in Becoming a Sponsor?
Click to download the full Sponsorship Opportunities document
Thank you to our 110% Sponsors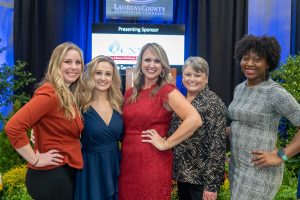 The Annual Awards Dinner is a time of celebration and recognition of business and community leaders, who make a difference in our community and for the Laurens County Chamber of Commerce. The dinner brings together 400 of the top business, municipality, industry and education leaders from Laurens County.