Keep it Clean, Laurens County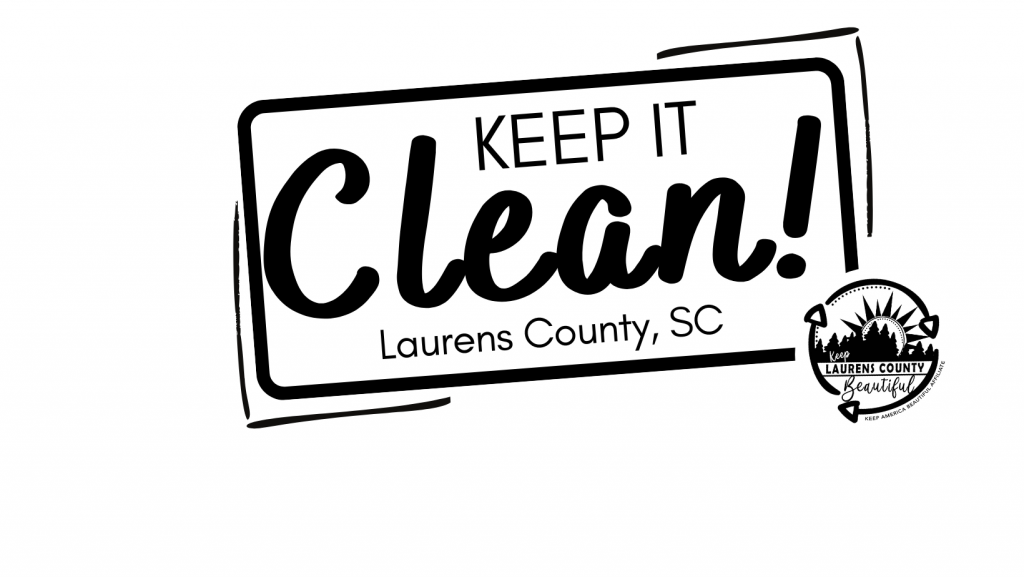 FOR IMMEDIATE RELEASE
January 28, 2022
Keep Laurens County Beautiful unveils anti-litter campaign
LAURENS COUNTY, S.C. --- Keep Laurens County Beautiful (KLCB) launches a new anti-litter campaign for 2023, called "Keep it Clean, Laurens County."
"THe Keep it Clean campaign promotes the KLCB vision of a cleaner, greener, more beautiful Laurens County," according to Courtney Stonell KLCB Affiliate coordinator. "We hope residents will participate by taking personal responsibility in this effort and encourage others to do the same."
The multifaceted initiative focuses on litter & waste reduction, drain conservation, and community involvement. Since early 2022, almost 200,000 pounds of trash has reportedly been removed from Laurens County roadways (credit community cleanups, Adopt A Highway, SCDOT, and the Laurens County Sheriff's Office reports). The positive impacts of cleaner communities make residents feel safer, friendlier, and healthier. As well as Strengthen communities and improve quality of life, and increase economic development.
"We hope to change the culture across Laurens County by involving all residents and educating our children. We acknowledge the value of our communities and the importance of understanding what happens to litter after it is tossed on the ground.
We know the importance of taking pride in the areas we live, work, and play and we are setting a goal to keep it clean and beautiful," says Stonell.
The "Keep it Clean, Laurens County" campaign will include media messaging, reusable shopping bag distribution, in honor of No Plastic Bag Day on July 3, community-wide cleanups, educational aspects, enforcement initiatives, and the "Keep It Clean, Drains to Stream" project, to convey to the public that everything that goes down a storm drain flows – untreated – into nearby streams.
Prescheduled 2023 community cleanup dates include: Lake Greenwood cleanup March 18, Earth Day April 22, National River Cleanup Day May 20, and World Cleanup Day September 17. More details to follow.
To find out more about opportunities to get involved or organize a cleanup in your neighborhood, or to get free supplies, contact Courtney Stonell at 864-833-2716 cstonell@laurenscounty.org.
Keep Laurens County Beautiful, founded in 2022, is a non-profit affiliate of Keep America Beautiful and works closes with Palmetto Pride's Keep South Carolina Beautiful, operating under the Laurens County Chamber of Commerce umbrella. The mission of KLCB is to engage the public in county-wide litter, recycling, and beautification efforts through impact, education, and enforcement.
# # #