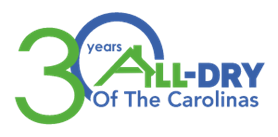 Join Our Team!
All-Dry of the Carolinas is hiring Service Technicians and Crew Members
All-Dry of the Carolinas is looking for highly qualified and highly motivated individuals to serve on our team of Service Technicians and Crew Members. Service Technicians meet with our existing customers on pre-scheduled appointments to perform annual maintenance or follow up on warranty issues for customers' waterproofing, crawlspace, and foundation repair systems. Service Techs inspect, diagnose, and recommend additional products or services to address customer needs. Both construction and sales experience are preferred. Excellent customer service skills and integrity are crucial. Individuals must have a valid driver's license and a good driving record. This position includes commission pay on top of hourly wages.
All-Dry of the Carolinas will train, and you must be able to work in a crawlspace. A background in construction or HVAC is helpful.
All-Dry of the Carolinas is the region's largest waterproofing, foundation repair, radon mitigation, and basement finishing contractor. Pay is hourly plus commission on sales. We enjoy a family environment and a strong employee benefits package. For more information, please visit basementsystemscarolinas.com or find us on Facebook. If you are interested, please submit your resume via email or the form below.
Additional Information
Job Type: Full-time
Experience: Experience Required
Contact Information
Phone: 1-864-984-2308
Email: alldryofthecarolinas@gmail.com