Laurens County Chamber of Commerce launches "The Brew" in Laurens County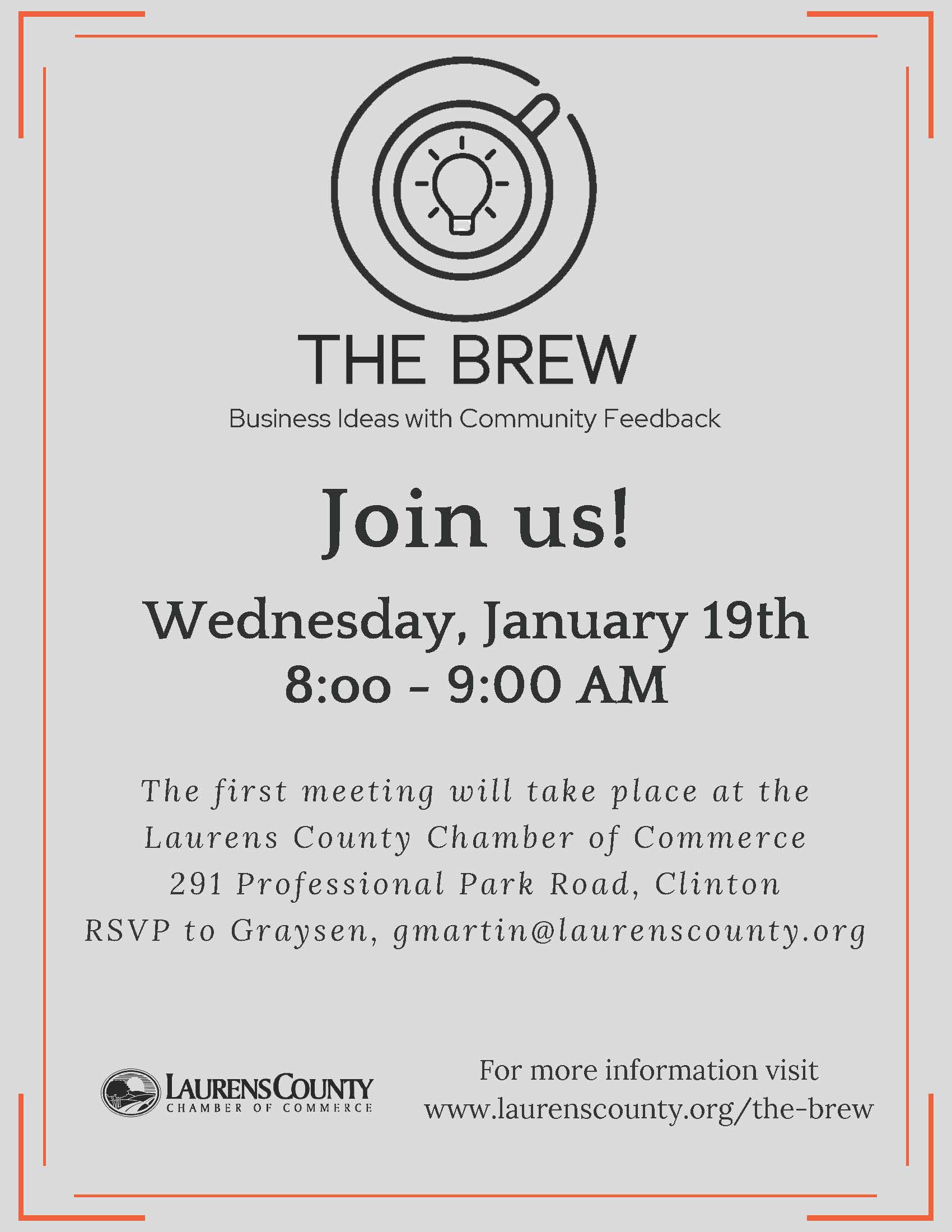 LAURENS COUNTY, SC, January 11, 2022 - The Laurens County Chamber of Commerce (LCCC) is launching "The Brew" as one more initiative for small business support in Laurens County.  "The Brew" first began in the City of Anderson in 2017 and with much success, the model has spread across the upstate.  Laurens County is the seventh county to launch this style meeting, based on the Anderson format, to allow local entrepreneurs a unique opportunity to receive feedback and advice from an audience of mentors and other entrepreneurs in a laid-back and welcoming environment. "The Brew" in Laurens County is scheduled for January 19, 2022, 8:00 AM - 9:00 AM at the Laurens County Chamber of Commerce, 291 Professional Park Road, Clinton, SC.
Caroline Gaddis, Business Education & Event Manager for the City of Anderson and member of the founding team of The Brew will be the guest speaker at this launch event. "The Brew has been a signature piece of our entrepreneurship community in Anderson over the past few years. We have seen it bring together business owners and community members from all walks of life and allowed them to collaborate to make Anderson stronger as a whole. Seeing the program spread to other communities is a testament to how much this program works. We gather together to help each other out, and that is at the heart of every Brew meeting," Caroline Gaddis.
This new LCCC initiative is led by Graysen Martin, LCCC Communications and Marketing Coordinator, she encourages local businesses & entrepreneurs to, "come check it out and see what we have to offer, this is a great networking and potential educational opportunity that I am very excited to help bring to Laurens County."  "The Brew" meetings will take place quarterly and will begin with networking time for attendees.  The meeting format is a small business owner or entrepreneur takes six to 10 minutes to present an idea or business overview and attendees give feedback for three to four minutes, followed by Q&A time.  The purpose is to help the entrepreneur accomplish business goals through discussing hardships and challenges.
For additional information and inquiries about being a guest speaker at The Brew, contact Graysen Martin, LCCC Communication and Marketing Coordinator, at the Chamber office at 864-833-2716 or gmartin@laurenscounty.org.